Chipped Paint Repair

Thorne, Doncaster, South Yorkshire
Do you have a problem that requires chipped paint repair? We offer a complete bodywork repair service for Thorne, Doncaster and the surrounding areas of South Yorkshire.
Unfortunately, it's inevitable that you will scratch the paint of your car whilst driving around. Not only does this leave the car unattractive, it can also bring down the resale value of your vehicle. If the scratch is left unattended, it may lead to rust which can be very costly to repair in the future.
While a quick search on the internet will return endless results of DIY paint repairs, it's always recommended to consult the opinion of professional bodywork repair technicians. A self-attempted repair may cause more damage to the vehicle and further increase the cost of repair. After all, they are professionals for a reason.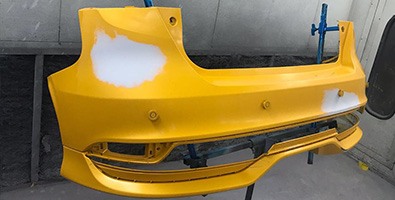 We are a fully registered company and specialise in full body works of car repairs. This entails; body works, car repaints, chip and scratch repairs.
Our team of fully-qualified bodywork technicians are driven by passion and finishing your car to a showroom standard. we are proud to be a reputable car body workshop in Doncaster. We have put our focus on giving quality services to meet and exceed our customer's expectations.
Repairing Car Scratches
No matter how shallow or deep, discovering a scratch on your pride and joy is sure to ruin your day. Furthermore, it can lead to surface damages such as rust and corrosion on the metal. It is very important to have the scratches fixed to retain the attractive look in your car. Depending on the extent of the damage, we offer the following services to remedy it:

Clear Coat Scratches
These are very light scratches on your car paint; they don't need to be repainted since the scratch did not go past the clear coat layer of your car. We will gently buffer the area and re-apply a top coat to restore the shine.
Paint Scratches and Scuffs
These are scratches that have made it past clear coat layer of your car. This type of scratch calls for a repaint of the entire layer, no matter how small the scuff is on the body. Our bespoke paint-matching service guarantees a flawless finish.
Deep Paint Scratch
They are pretty deep scratches that has removed the paint layer to expose the car metal or plastic. You shouldn't delay in repairing this as the metal is vulnerable to rusting, potentially affecting the structural integrity of the car.
Car Dent Repairs
Car dents can be very costly to repair. This entirely depends on; the size of the dent, position of the dent, and the extent of damage in the dent. It is important to note that a big dent in an easy to repair position will cost you less as compared to a small dent that is in a very difficult to access position. The cost of PDR (Paintless dent removal) depends on the size and position of the dent.
Chipped Paint Repair Near Me
If you require chipped paint repair in Thorne, Doncaster, South Yorkshire get in touch. Call 01405 123456 today.
Thorne
Hatfield
Epworth
Pontefract
Goole
Doncaster
Snaith
Whitley
Castleford
Knottingley
Scunthorpe
Auckley
Keadby
Amthorpe
Selby